In order to use Duo, Augsburg's Multi-Factor Authentication (MFA) platform, you must enroll a mobile device to serve as the 2nd factor in your login process.  Faculty, Staff, and Student Workers who currently use the RemoteWork or OpenVPN environments have been sent emails from Duo inviting you to enroll.  If you did not get an email, please contact your LFC or techdesk@augsburg.edu.
To enroll, please follow these steps:
Open the enrollment email either on your computer or your mobile device.  The email will look similar to the one below. 
Select the type of device you are about to enroll.  (Mobile phone is recommended)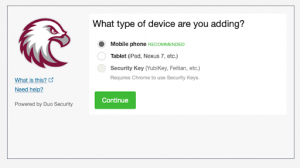 Enter your mobile phone number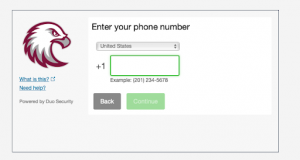 Select the type of mobile phone from the list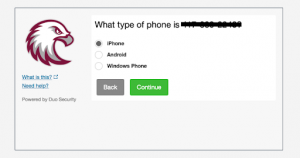 On your mobile device, go to the App Store, Google Play Store, or Windows Phone Store to download and install Duo Mobile. If you opened the enrollment email on your computer, complete this step and move to step 7.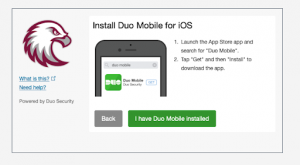 If you opened the enrollment email on your device, click "Take me to Duo Mobile" and you are done.  Your device has been enrolled and it is ready to get push notifications to Approve or Deny log in requests
If you began the enrollment process on your computer, you'll now need to activate Duo Mobile by scanning the barcode with the app's built-in barcode scanner.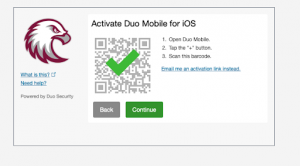 If this is the device you'll use most often with Duo then you may want to enable automatic push requests by changing the

when I log in:

option and changing the setting from "Ask me to choose an authentication method" to "Automatically send this device a Duo Push"  and click

Finish Enrollment

.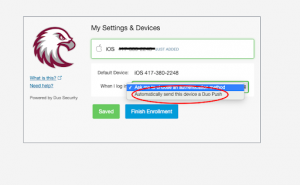 Your device is ready to approve Duo push authentication requests. All you need to do is tap Approve on the Duo login request received at your phone.