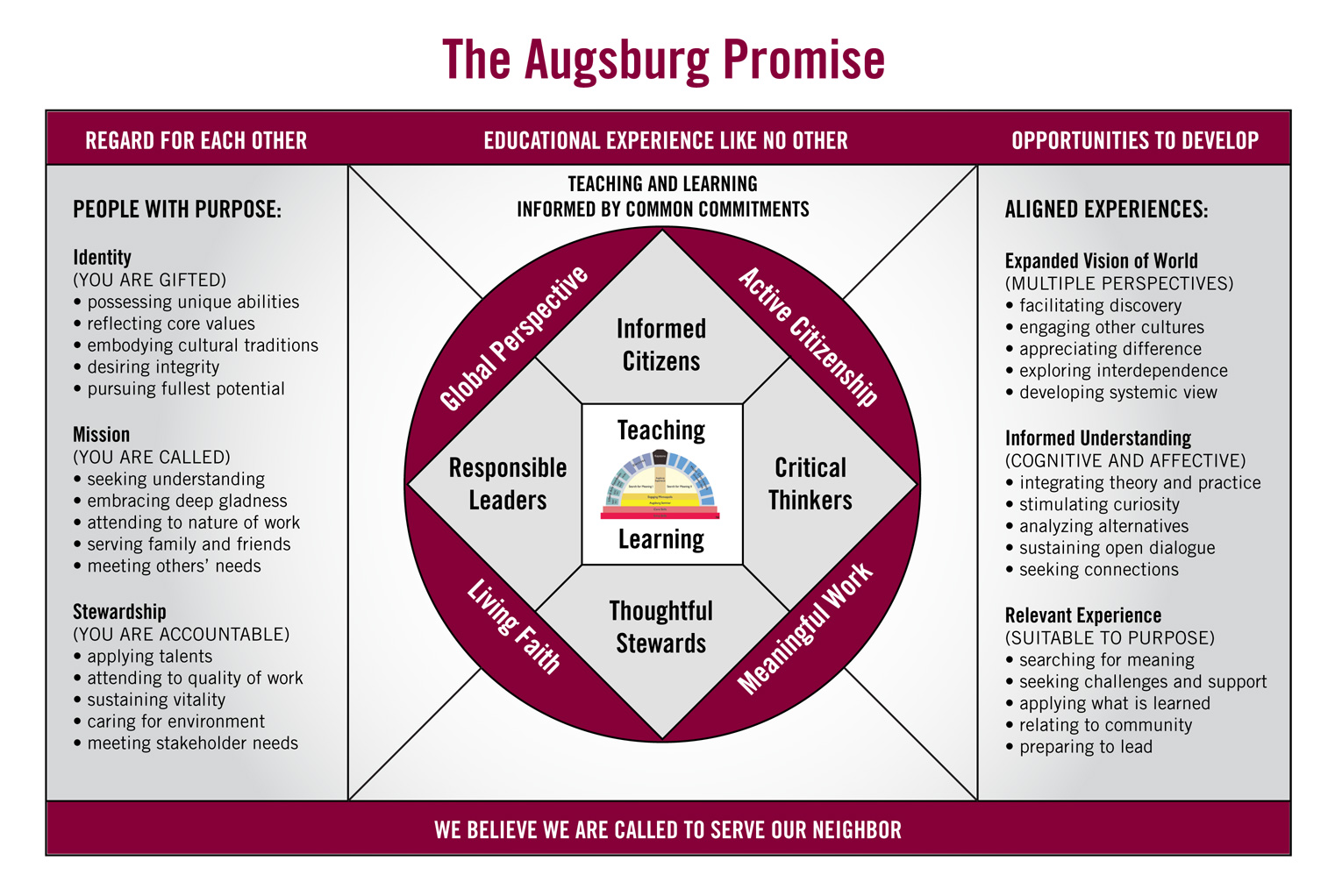 What We Do
The Center for Teaching and Learning provides personal and professional development opportunities for Augsburg faculty, staff, and leadership. Most programming is open to everyone, even though some sessions are designed for specific groups.
Programming is offered in six areas:
Teaching and Learning
These programs are designed to address the needs of those who teach face-to-face, online, or blended classes, or offer other programs for Augsburg's traditional and non-traditional students. This series includes workshops, a Teaching showcase, Instructional and Course Design Grants, Teaching Circles, Assessment, and Consulting – services open to everyone. Specific programs have also been designed for new faculty, graduate faculty, tenure track faculty, and those at the Rochester location.
Scholarship
These programs are designed to support scholarship activities for Augsburg faculty and academic staff. The series includes Speaking of Scholarship, the Scholarship Showcase, a Scholarly Writing Retreat, Scholarly Writing Circles, Summer Scholarship Grants, and Professional Travel Grants.
Inclusiveness
As our mission states, "The Augsburg experience is supported by an engaged community, committed to intentional diversity in its life and work." That means that we recruit a diverse student body and create an inclusive, supportive learning environment that enables them to be successful. It also means that we prepare all of our students to successfully work in a diverse, global environment. To support the mission, we hold an annual conference on Creating an Inclusive Campus and a variety of programs and workshops to support faculty and staff as they work to fulfill our mission.
Leadership Development
These programs are designed to address leadership development needs for Chairs/Directors, the Leadership Council, and other campus leaders. Most of these programs are designed in response to needs identified by leadership groups.
Community Building
These activities are designed to help build a sense of community among faculty, staff, and leadership. Components include the New Faculty and Staff Orientation, Mindful Dialogues, CTL Night at the Theatre, Coffee Discussions, and reading circles.