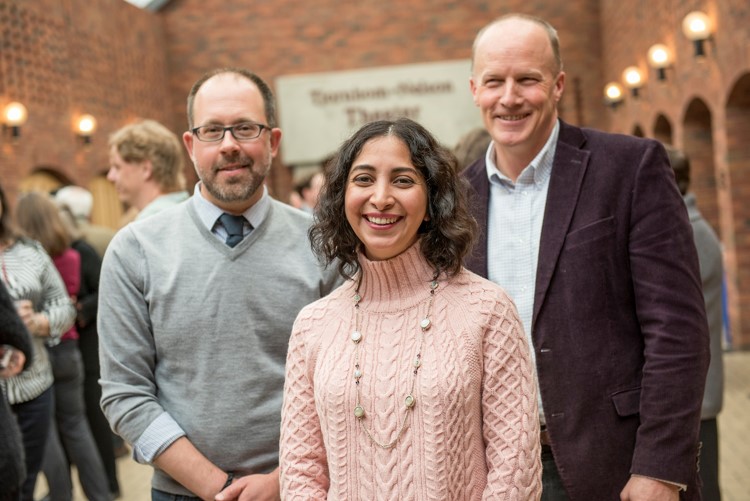 Congratulations 2016 Distinguished Contributors:
Joe Underhill, Michael Lansing, and Dulce Monterrubio
---
Joe Underhill, Department of Political Science, Distinguished Contributions to Teaching
Professor Underhill has been a committed and passionate teacher since joining the faculty. His nominators pointed to a long string of examples where he has pushed the pedagogical envelope, including his work through the Model UN, the International Relations program, and several Study Abroad trips. All those examples, impressive as they are, pale in comparison to the River Semester. His years of planning culminated in a semester-long experiential learning opportunity for students this past fall. During this over 100-day teaching marathon, he guided students through individual learning projects that integrated social sciences, natural sciences, arts and humanities, as they navigated the length of the Mississippi River.
---
Michael Lansing, Department of History, Distinguished Contributions to Scholarship
Professor Lansing has established a strong track-record of publically engaged scholarship, research that reflects the highest standards of scholarly achievement while also supporting teaching and addressing questions of significance to our world today. His latest book, Insurgent Democracy: The Nonpartisan League in North American Politics (University of Chicago Press, 2015), has captured the interest of academics, amateur historians, and the general public as it not only thoroughly addresses the progressive movement, but allows for parallels to be drawn to today's political climate.
---
Dulce Monterrubio, Director of Latin@ Student Services, Distinguished Contributions to Service
Dulce's service to Augsburg students goes well beyond her position's stated duties. For example, she secured funds from the Mexican Consulate to offer Latino families one-on-one financial aid counseling, developed the Undocumented Students webpage to facilitate information and resources for their college journey, and even worked to make it possible for the first Augsburg DACA student to study aboard in China.  Her efforts have prompted an anonymous donor to reach out and provide scholarship funds for undocumented students pursuing research opportunities in the summer of 2015 and during the 2015-2016 academic year. What these, and several unmentioned examples represent, is an opportunity for students to learn at Augsburg, something that might not otherwise be possible without Dulce's efforts.