Visual Quickstart Guides
Training Videos
SmartRecruiters Overview for Hiring Managers (53 min)
Navigation, submitting a requisition, managing candidates
Scheduling Interviews (13 min)
Traditional and self-scheduling, zoom links, bulk scheduling
Job Approval Requests
VPs, Deans and other managers may be part of the approval chain for faculty and staff position requisitions. Learn how to review, edit, delegate and approve requisitions.
Smart Recruiters: Getting Started Tutorials
Login to SmartRecruiters. Click your user profile and choose Help Center  > Product Tutorials > Getting Started
Job Posting Approval Paths Cheatsheet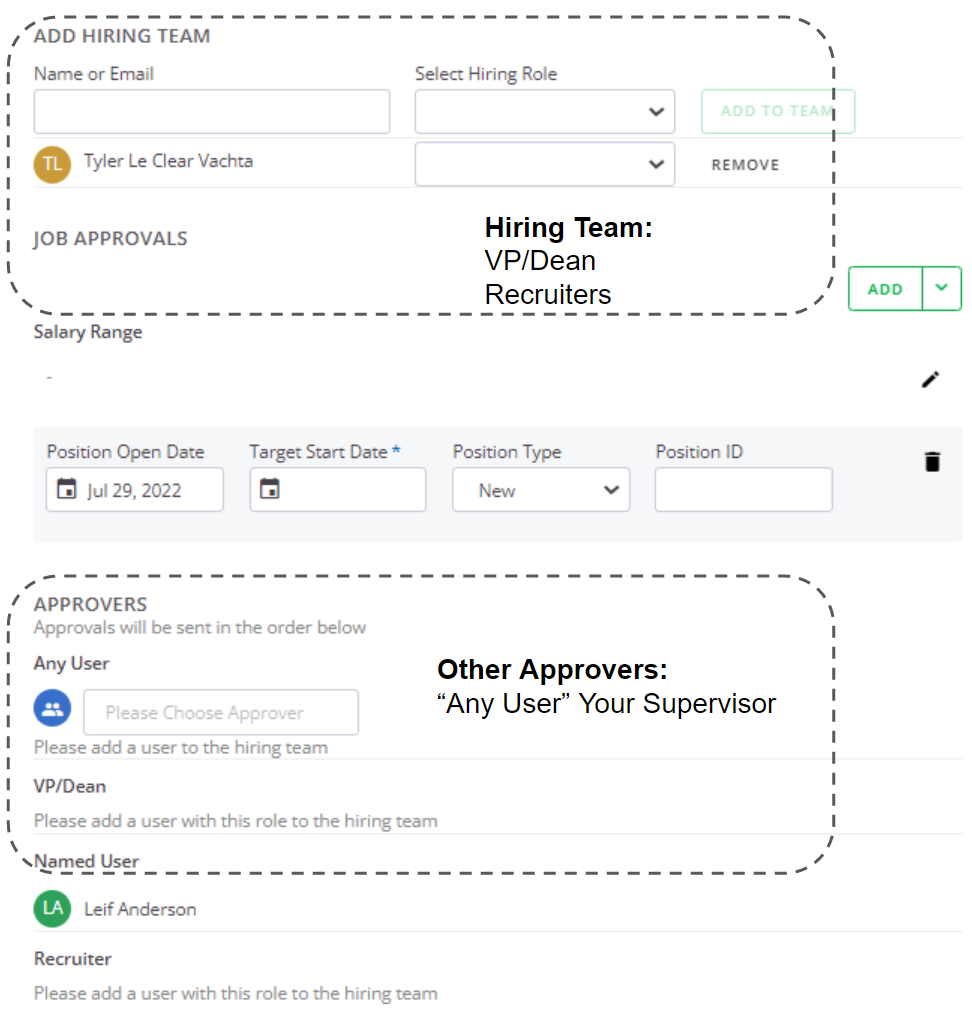 Job requisitions require different approval paths before the job ad can be posted. Please refer to the approval paths below (subject to change). Preset names are automatically included in the approval path. Hiring Team members in the approval path must be added to the hiring team.  Approvers listed as "any role/user" can be filled out in the Approvals section
Staff Approvals
Any User – Choose your supervisor (ok if same as VP)
Hiring Team – VP/Dean: Division Vice President
[Preset User] Leif Anderson, Chief Strategy officer
Hiring Team – Recruiter: Taylor Greathouse or Angela Windnagel
Faculty Requisition Approvals
[Preset User] KC Gubrud, Executive Assistant To The Provost
Hiring Team – VP/Dean: Division dean (Monica Devers or Ryan Haaland)
[Preset User] Taylor Greathouse, Recruiter for faculty positions
Student Employee Approvals
[Preset User] Charlotte Swanson
Adjunct Faculty Approvals
[Preset User] Taylor Greathouse, Faculty Business Partner
Frequently Asked Questions
Can I hire an employee to work remotely from another state?

Remote employees are generally governed by the employment laws and taxes of the state where they reside. The university is not able to support the administrative burden of staying up to date with tax and employment laws in multiple states. Augsburg is setup to work with state taxes in only a handful of states.
Remote employees can only be employed if they reside in Minnesota, Arizona, California, Iowa, Massachusetts, New York or Wisconsin. 
System status: https://smartrecruiters.statuspage.io