Congratulations to John Weirick, Marketing Copywriter, for receiving the January Auggie Pride Award. The large job he took on, on top of his regular day-to-day, to help improve consistency across communication will impact the university and beyond. Staff Senate admires his outstanding work and are honored to award him with this month's Auggie Pride Award.
John Weirick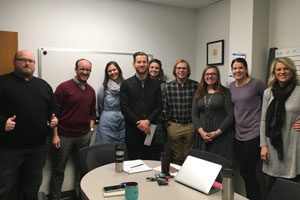 Nomination: John recently completed a massive project—developing a comprehensive editorial style guide to make sure the university is able to be consistent in our written communication across media (print publications, Augsburg Now, the website, etc.). This is a valuable tool for our department, but also for partners across campus who need to communicate with our key audiences: students, prospective students, alumni, donors, and more. Developing it took a tremendous amount of work and discussion both in the office and with others on campus.
To learn more about the Auggie Pride program and to make a nomination click here to visit our website.