Congratulations to Christine Berkenpas, Associate Registrar, and Maggie Sotos, Enrollment Communications and Event Specialist for receiving the December Auggie Pride Awards. The service they provide to the entire Augsburg community has an unmeasurable impact on not only the people they encounter but the institution as a whole. Staff Senate admires their outstanding work and are honored to award them with this month's Auggie Pride Award.
Christine Berkenpas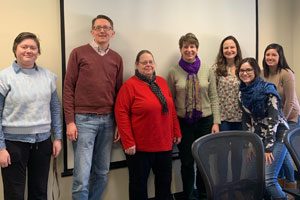 Nomination: Christine, Associate Registrar for Transfer and and Graduation, has worked tirelessly this term to advocate for our transfer students. She spent countless hours reviewing the new General Education proposal and its potential impact on Augsburg's transfer student population. Christine pays attention to detail, uses data to demonstrate a need, and provides well-constructed responses for consideration. Christine identifies issues but always bring possible solutions to the table. Her research, collaboration, and follow-through have led to many meaningful conversation with the General Education Design Team. Christine's work will have a positive impact on the Revised General Education Proposal which ultimately will benefit our transfer student population. Beyond this specific example, Christine is one of the most dedicated individuals I have worked with. She cares about our team, has high ethical and moral standards, and always puts our students first!
Maggie Sotos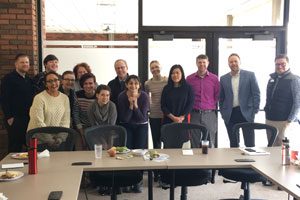 Nomination: The Auggie Pride Staff Recognition Program honors staff members who go above and beyond on behalf…
   Augsburg's mission statement leads with its dedication to creating informed citizens. These past few months, Maggie volunteered her time to engage both the admissions and admissions operations teams to participate in the November elections. Maggie regularly shared information on polling places, how to register, challenged the teams to research candidates and ballot issues, and brought in treats (and humor!) to incentivize the teams to vote. She challenged us to engage in the process in a thoughtful and meaningful way. I have to stress that Maggie didn't care HOW we voted politically, but rather that we leverage our individual agency to affect collective community engagement. Maggie's endless team spirit, motivation, and advocacy resulted in a 100% voter turnout among our departments! If her efforts don't embody the very core of informed citizenship and thoughtful stewardship, I don't know what does! Maggie brings passion to her work and lives out the University mission in her day-to-day connections with those around her, and I am thankful for the experience and vigor she brings to the University.