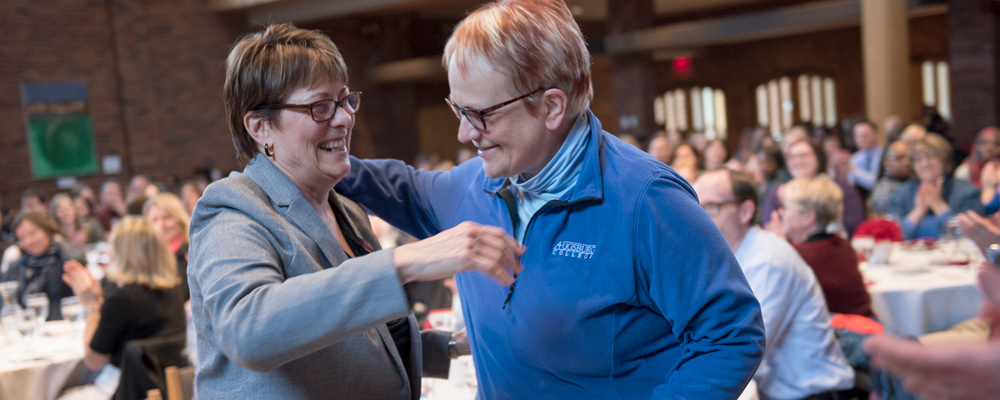 2021 Staff Appreciation Program
Each year, Augsburg University's Staff Senate hosts a special event where staff are recognized for years of service, completion of the Diversity and Inclusion certificate program, and outstanding contributions to the campus community. Staff Senate will award five Outstanding Staff awards and one Newcomer award in a presentation on the afternoon of May 10th.
2021 Staff Appreciation Program
Monday, May 10th
Time: 3:00 PM | Virtual Stream on Augsburg University's Youtube Channel
---
Nominate a Colleague
Staff Senate is now accepting nominations to honor outstanding staff and outstanding newcomers at Augsburg University! Nominations for the Outstanding Staff and Newcomer Awards will be accepted until April 9. Nominations are welcomed from any current member of the campus community – staff, faculty, or student. Submissions are due no later than 5 p.m. on April 9.
The Staff Appreciation Program is intended to recognize staff members who have made an important contribution to the campus community over the past year.
Recipients of the Outstanding Staff Award provide exceptional service to others, work collaboratively across divisions or departments, demonstrate a clear commitment to equity and inclusion, and enhance the objectives of their department and the mission of Augsburg University through creativity, innovation, and hard work.
The Newcomer Award recognizes a staff person who has made a significant impact on campus life in the categories listed above in a short amount of time. Staff who have been at Augsburg for 2 years or less (as of May 1, 2021) are eligible to receive this award.
Staff Senate will award five Outstanding Staff awards and one Newcomer award in a presentation on the afternoon of May 10. President Pribbenow, with the support of his leadership team, will also present an award to an outstanding department or group. 
STEP 1: Complete the online Q & A below. The form will ask you to explain why the nominee is deserving of the award. 
STEP 2: Recruit 1-2 more individual(s) to fill out the form to recommend the same nominee.
All submissions are due by 5 p.m. on April 9.
Click here for the nomination form and additional instructions: https://forms.gle/Lg8T2b6B5WLeiDZz8
Note: Each nominee requires 2 submissions (maximum of 3) recommending them for Outstanding Staff. You, the nominator, will need to ask 1-2 more people to also fill out and submit the form, nominating the same staff member.
---