Congratulations to Jeff Grauer, Maintenance Operator, and the Center for Wellness and Counseling for receiving the November Auggie Pride Award. Their passion to help our students, faculty, and staff is felt by the entire community. Staff Senate admires the work they do everyday and are honored to award them both with this month's Auggie Pride Award.
Jeff Grauer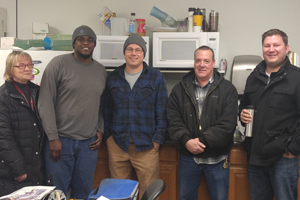 Nomination: Jeff sets an example of compassion that drives the goals and initiatives Augsburg University strives to achieve. Jeff is the HVAC specialist at the university. He is the only person in that role and he takes it on with pride. Jeff has excelled over time to learn the different applications on campus. He goes above and beyond to ensure that the residents, faculty, and staff are comfortable in their settings. Jeff works well with his peers, taking the time to help others learn about the numerous amount of equipment that it takes to run the university efficiently. Whether its after hours, or its during breaks, Jeff is always making sure that everything is ok. Not only is Jeff an employee, he is a student as well. During his downtime, Jeff's nose is in the books, learning and growing. He is going for a major in communications, which is a huge part of working in a facilities department. I commend Jeff for his willingness to show up and commit 100% effort into his role here at the university. So when you see a guy with his head in the ceiling, or his legs partially showing underneath something, give him a shout. Thanks Jeff for all you do.  
The Center for Wellness and Counseling
Nomination: The Center for Wellness and Counseling goes above and beyond to provide support, advocacy, and wellness to the greater student body here at Augsburg. They are incredibly collaborative, consistently reaching out to various departments to find out how they can be helpful in others' work, seeking out educational opportunities to better their knowledge and skills as practitioners, and support others' programming despite having an incredibly heavy workload. They are dedicated to their students, and work to help students seek out balance and health within their personal, social, academic, and family lives.