Congratulations to Anne Lynch, disability specialist in the CLASS program along with Dave St. Aubin, Ricky Anderson, and Eric Graham from facilities for receiving the April Auggie Pride Award. They consistently go above and beyond their regular call of duty to help students and other campus parters succeed. Staff Senate admires their outstanding work and are honored to award them with this month's Auggie Pride Award.
Dave St. Aubin, Ricky Anderson, and Eric Graham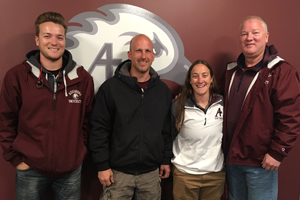 Nomination: They all went above and beyond to help me get my softball field ready to play a doubleheader this past Sunday. They gave my student athletes the opportunity to compete and not have to make up another game during the middle of a very stressful academic time of year. They worked past shift hours and on the weekend to make this happen. I am very grateful for them and their acts!
Anne Lynch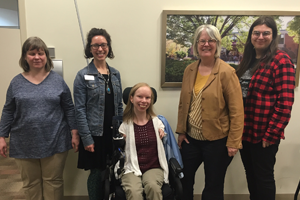 Nominations: The CLASS Office has been going through significant changes over the last academic year due to staff turnover. Through it all, Anne Lynch, the longest-standing member of the CLASS office (19 years!) has been a rock.
Anne always keeps the big picture in mind and strives to keep us rooted in the CLASS office mission and service model as we navigate these staffing challenges of doing more with less.
She has taken on a significant increase in her student load, while at the same time still providing thoughtful, measured, and warm approach to ensuring students have equal access. She has also taken on the lion's share of training our newest team member, Cassie, who is brand new to working in higher education. With Anne's long tenure at Augsburg, she offers Cassie a breadth and depth of knowledge like no one else on the team. Cassie has shared how valuable the training has been and what a welcoming presence Anne has been throughout her on-boarding.