Faculty and Staff are invited to watch this short introduction video to learn about your role in supporting students through their development of their Vocation Portfolio.
Faculty/Staff Responsibilities Within The Stages
Go to this page to read "What is Vocation?"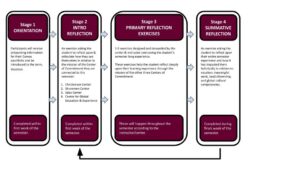 Faculty/Staff – Setting Up your Profile
As a faculty or staff member who are supervising student experiences with the V-Portfolio, it is important to understand how the platform and technology works. It is important to complete Stage 1: Step 1 just as the students do. Faculty and staff can follow the directions on the setting up your portfolio page in order to complete this step.
Designing Primary Reflection Exercises
Stage 3 of the V-Portfolio is the completion of three to five Primary Reflection Exercises that ask the student to pause and reflect critically on how this particular experience is shaping their understanding of themselves in relation to the host center's mission (vocation, global citizenship, local citizenship, or meaningful work). Go to this page to learn how to design a Primary Reflection Exercise.