Facilities has been working with Metropolitan Mechanical (MMC) to develop a plan to repair the steam leaks on Riverside Avenue. After careful consideration, the recommended plan requires two campus-wide steam shutdowns. The first outage, scheduled for 9 a.m.-1 p.m. Wednesday, October 6, will be an inspection to determine where the leak is. The work will be completed during the second shutdown, scheduled for 6 a.m.-6 p.m. Wednesday, October 13. 
A list of buildings that are affected because of the steam shutdown follows. This only affects hot water; cold water will still be available for toilets, sinks, drinking fountains, and showers.
Ice Arena – No hot water for the zamboni area, sinks, vanities, and showers

Si-Melby – No hot water for sinks, vanities, and showers  

Urness Hall – No hot water for sinks, vanities, and showers 

Mortensen Hall – No hot water for sinks, vanities, and showers

Christensen Center – No hot water for sinks, upper floor kitchen, dishwasher, and mop sink 
Science 123 Classroom Remodeling Progress
Progress continues on the Science 123 classroom remodeling project. Carpeting will be installed October 11-15. We will announce the room's availability for use as soon as we can do so with reasonable accuracy.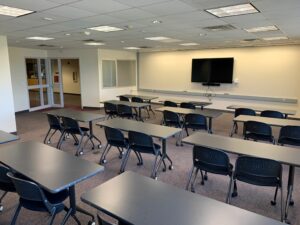 Sverdrup 208 Remodeling Is Complete
All remodeling to Sverdrup 208 has been completed. The room can be reserved through University Events. It will be added to the online booking system soon, but in the meantime, you can contact the events office at events@augsburg.edu or x1104 to reserve the space.
Revised Date for New Dome Installation
Weather permitting, the new dome over the athletic field will be installed during the week of November 21.

MnDOT Closures 
MnDOT has had the 25th Avenue bridge fully closed for several weeks after a truck struck one of the beams. MnDOT opened the north side to traffic but the southbound side will remain closed at least until mid-October. It will require a more significant repair. In addition, I-94 west is closed between Highway 280  and 25th Avenue from 10 p.m. to 5 a.m. nightly Wednesday, September 15, to Wednesday, October 6, for repairs to 25th Avenue bridge. This includes weekends. MnDOT apologizes for the inconvenience.
Air Filtration
We continue to operate HEPA filters in classrooms, common spaces, and in offices in buildings with central HVAC systems. In buildings with central HVAC, we continue to use MERV-13 filters circulating fresh air 24 hours a day.