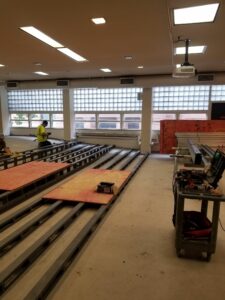 Work has begun on the tiered platforms and is going well. That phase of the project should be completed by Wednesday, September 29. The next phase will be carpet installation; once that is scheduled, we should be able to announce when the classroom will be available for use.
Date Set for New Dome Installation
Weather permitting, the new dome over the athletic field will be installed on Saturday, November 20.

Return to Campus Updates: 
What to know about

cleaning office spaces

.

Buildings with HVAC systems were upgraded with MERV-13 filters circulating fresh air 24 hours a day. In buildings without central HVAC systems, HEPA filtration units have been added in office spaces. There are also HEPA filtration units in classrooms.

MnDOT has had the 25th Avenue bridge fully closed for several weeks after a truck struck one of the beams. MnDOT opened the north side to traffic but the southbound side will remain closed at least until mid-October. It will require a more significant repair. In addition, I-94 west is closed between Highway 280  and 25th Avenue from 10 p.m. to 5 a.m. nightly Wednesday, September 15, to Wednesday, October 6, for repairs to 25th Avenue bridge. This includes weekends. MnDOT apologizes for the inconvenience.