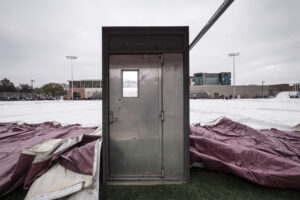 Leaves are falling, birds are flying south, and it's dark by 5:15 p.m. But the surest sign of winter arrives this week: Augsburg's dome is going up. 
Last week, athletic facilities staff undertook the multi-day process to convert Edor Nelson Field for winter use, taking down field pads, wind screens, goal posts, and the front section of the bleachers to be stored off-site until spring. 
On Monday, the dome will arrive in five pieces on flatbed trucks. Street parking on Butler will not be available through Monday as cranes offload the dome sections. Working with Augsburg facilities maintenance staff, installation crews from the manufacturer Yeadon will roll out each section on the field, secure the connections between them, and attach the dome doors. 
After three days of prep and assembly, inflation only takes about three hours. Working around snow delays, the dome should be inflated later this week and open for use by Augsburg athletic teams, local leagues, and community members the week of November 21.