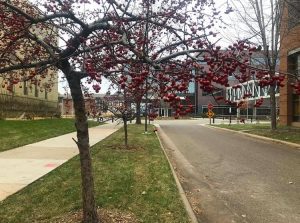 Work is continuing on the lower level of Lindell Library, which flooded with an inch of water on August 26. A plug snapped off from the fire sprinkler line of Lindell's water system, causing clean water to run into the mechanical room and the rest of the lower level. The entire space was flooded and nearly two feet of water filled an elevator. Custodians and firefighters responded soon afterward.
Augsburg is working with professional sanitization and environmental firms to assess when the space will be usable but they have already determined that the two classrooms, 15 and 16, are usable.
AdvantaClean, a professional sanitization company, has been finishing removing the remaining moisture and dehumidifying the lower level. Augsburg is having environmental testing by Environmental Assurance. The librarians and archivists have been going through the collection and archives housed on the lower level. Items that were higher up on shelving weren't damaged, but some items were impacted.
Steam Vaults Repaired on August 30
Metropolitan Mechanical(MMC) completed the annual inspection of the steam vaults on campus and has fixed a leak in two of our steam vaults. The repair of the vaults required a campus-wide steam shut down on August 30th, which resulted in no hot water in some buildings during that time.
Energy-Saving LED Lights Being Installed Campuswide 
All campus light bulbs are being replaced with energy-saving LED lights by the end of the year. Facilities will notify departments about a week ahead of time and share updates via A-mail. The cost savings was planned to pay for a needed replacement for the Edor Nelson Athletic Field dome. The dome is 15 years old and the life expectancy is 12. The new dome will be installed the first week in November.
Campus Meeting Space
There's a lot of demand for student organizations to meet, so Anderson 21 and Sverdrup 208 are being turned into meeting spaces. Anderson 21, in the residence hall's basement, was used by McGough Construction as an office during the Hagfors Center construction and will be updated with paint, new carpet, and technology to become a meeting room. Sverdrup 208, the former Honors Lounge, also is being turned into a meeting space and painting has begun. Once the projects are complete, it will be communicated via A-mail and reservations can be made.
Return to Campus Updates
Sanitization stands with hand sanitizer and disinfecting wipes are stationed at the front entrance of every building on the Minneapolis campus.

What to know about

cleaning office spaces

.

Make a Facilities request if you see an issue that needs to be addressed. 

HEPA air filtration units have been added to offices without HVAC building systems only. HVAC systems with MERV-13 filters are circulating fresh air 24 hours a day. 

Staff and faculty in Memorial Hall who want to request a window air conditioner should make a Facilities request. Facilities will provide and install the unit, since the building doesn't have central air conditioning.

MnDOT has had the 25th Avenue bridge fully closed for several weeks after a truck struck one of the beams. MnDOT opened the north side to traffic but the southbound side will remain closed at least until mid-October. It will require a more significant repair. MnDOT apologizes for the inconvenience.