Augsburg University has a long history with and deeply held commitment to experiential education.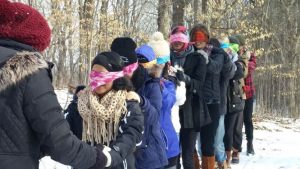 In fact, part of the reason Augsburg moved to Minneapolis in 1872 from its first location in Marshall, Wisconsin was so that seminary students could gain experience serving city congregations. Our institutional commitment to relevant experiential learning has been affirmed and sustained across our history, from Professor Joel Torstenson's call in the 1960s for faculty to embrace the modern metropolis as both classroom and place for contribution to the public good, to our early leadership in the field of service-learning, the mission of the Center for Global Education and Experience, and the establishment of the Augsburg Experience graduation requirement in the early 2000s.
At Augsburg we practice experiential education because:
It engages students in examination of themselves, the ideas they hold, values, and disciplinary perspectives

It facilitates vocational discernment through reflection on oneself in the context of our community and society

It brings academic disciplines into conversation with relevant presenting problems and societal issues, so that students can apply what they learn to their work in the world.

It provides the opportunity to examine critically the social, cultural, political context and ethical dimensions of the experience.

It facilitates professional development within the context of a discipline.

It facilitates participation in and contribution to our broader communities.