Stage 1: Step 1
Your V-Portfolio will live on a platform called CANVAS | Portfolium. It is a social media platform very similar to LinkedIn and Facebook. You are able to upload your own content, connect with others, get creative in your reflection style for presentation, and determine the visibility of your reflections and exercises. Your V-Portfolio can function as a place to collect key reflections you are proud of, build on your learning over time, and it can also become a virtual resume of sorts you might use to showcase your talents when you begin looking for work.
To set up your account:
Make sure you are signed into Inside Augsburg.

Go to https://portfolium.com/login and enter your Augsburg email address
No account yet?

Choose "Join now" at the bottom of the page.
Enter your Augsburg email address.
Begin setting up your account.

Signing back into your account?
If you already have a Canvas account from another course or experience, we ask that you still review the following prompts to strengthen your Canvas profile's presence.
The Elements in the Set Up of your Profile
Vocation is nothing more, and nothing less, than thinking about how you want to show up in the world. Who are you? What do you care about? What do you stand for — and who do you stand with?
You get to address these questions in the first four elements of your profile: your name, your headshot, your tagline, and your cover photo. Together, these four elements create a powerful first impression for friends and colleagues, as well as potential collaborators, clients, and employers. Think of this exercise as a way of writing the byline for the story you will tell in the rest of your portfolio.
How do you want to show up in the world?
Your Name
This may be easy or obvious, but reflect on the following: What's in a name? What's your relationship to your birth name? Does it have particular significance to your family or faith tradition? Do you have a nickname? Other names you prefer? What's in your name? Names can trigger certain expectations, even stereotypes in others; they also identify us to ourselves and others. Think about what name should be on your portfolio. Be sensitive to the various audiences that will see it on a platform that is more intimate than LinkedIn, but more formal than Facebook.
What name will you choose?
Your Headshot
A headshot offers a visual presentation of who you are. If you use a photograph of yourself, would you want that image to be in profile or full-on? What's the expression you want on your face? Photographs communicate certain information about race, gender, and age, which again may trigger certain expectations, even stereotypes in others, even as they are one way of identifying who you are. You may choose not to put a photograph of yourself in the headshot circle, but rather an image of something that represents who you are and what you stand for.
What headshot will you choose?
Your Tagline
The tagline is a way of presenting yourself in your own terms. Think of words that describe you, underscore your interests and highlight your strengths. Pay attention to whether those words are nouns ("citizen of the world," "artist") or verbs ("striving for justice," "working for the common good").
Choose words that sum up your passions and capture the imaginations of others. The tagline should be legible to people outside the circles of your experience, leaving them with the feeling that they want to get to know you better and find ways to make common cause with you.
What tagline will you choose?
Your Cover Image
You can "background" a lot in this final element of the portfolio. It serves as a visual description of the most important aspects of your own background. Introduce a community of people you claim. Show something you care deeply about. Whatever you choose, make sure that your background image does not make the tagline hard to read. Make sure it does not compete with whatever you used for your headshot. A starting point can include downloading and uploading a photo from a stock photo website, for example Pexels.com.
What image represents you?
Connections
You will have four options for privacy settings. Be sure your settings reflect one of the top three options. Do not set it to "Private, only you."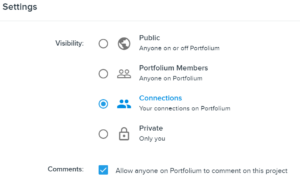 Then, connect with the instructor, faculty, or staff you are working with, and perhaps you will want to share with other students in the same program. You can always search for and connect with other students at Augsburg University. Doing this will help create a supportive community for reflection and process as you build your V-Portfolio.
Who will you connect with?