Faculty Information
Augsburg's Understanding of Vocation
This statement on vocation was written by Augsburg University's Religion Department.
"Vocation is a concept central to the life of Augsburg University. Vocation is a lens for looking at and thinking about one's life and how it is lived out in the world. In vocation, one is summoned by a call; one may perceive that "voice" as coming from God, a higher power, one's deepest self, or from lived experience which leads one to gain a sense of purpose or meaning. The Lutheran Tradition believes that vocation is unique to the individual, related to one's core identity, gifts, skills, and passion.
At the same time, vocation is not only about self—it involves identifying and responding to the needs in the community or world. Vocation is best framed as a journey, rather than a destination—a life-long process that looks differently at different times in one's life."
Description of the V-Portfolio
A student's V-Portfolio increases in meaningfulness and usefulness in proportion to the time they put into creating it and managing it. It is intended to become a tool that will help them capture and reflect upon key learning experiences in and beyond the classroom during their time at Augsburg. They will add to their v-portfolio each time they participate in a program sponsored by one of the four Centers of Commitment: the Christensen Center for Vocation, Center for Global Education and Experience, Sabo Center for Democracy and Citizenship, and the Strommen Center for Meaningful work. The v-portfolio will facilitate reflection on their experiences they have with these centers so that they gain a deeper understanding of how they are called to serve the neighbor, how they are called to be a global citizen, how they are called to be an engaged local citizen, and how they are called to meaningful work.
Students will use the online platform, Canvas, to create their V-Portfolio and upload their V-Portfolio reflections.
Students complete up to five reflections in their V-Portfolio each semester they are engaged with one of the four centers of commitment (see image above). They will complete the Initial Reflection at the very beginning of the semester, up to five primary reflections throughout their semester, and one Summative Reflection at the very end of the semester. The Primary Experience Reflections will be designed by the staff and faculty of the center hosting the student's learning experience.
Primary Reflection Exercises
The V-Portfolio uses Primary Reflection Exercises to help students reflect upon their learning and vocational formation throughout their experiences. We anticipate that these are assignments that are already being done that focus on your student's learning.
On this page you will see the Primary Reflection Exercise Requirements. These requirements will strengthen your reflections to utilize the most features found within Canvas, which is the platform that the V-Portfolios exist on.
Primary Reflection Exercise Description
The below diagram outlines what a student experiences as they build their V-Portfolio. On which, the first two stages of the V-Portfolio including Stage 1: Onboarding & Orientation; and Stage 2: Initial Reflection are found on the Student Page and are created by the V-Portfolio staff. The Primary Reflection Exercises are created by the centers of commitment at Augsburg. The Primary Reflection Exercises are created by each center by a student's instructor, internship supervisor, or manager.  Before a student's experience is done, they will complete their Summative Reflection in Stage 4.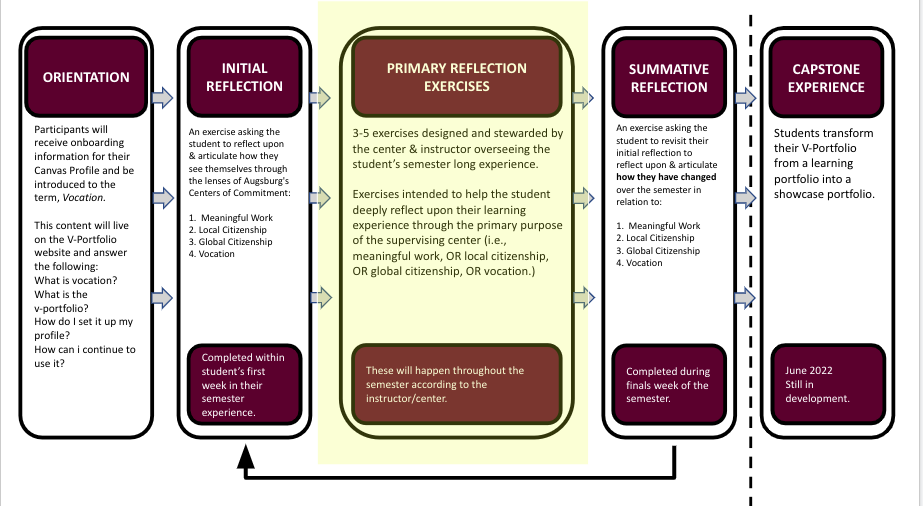 Link to V-Portfolio Diagram