Student Affairs Modified Operation Hours and Contact Information
Sarah Griesse (Dean of Students) and Administrative Assistant, Mike Fetting, are currently working remotely but are still checking and responding to emails and voicemail from 8 am to 4:30 pm. Please try to reach out by email if possible. We will do our best to check and respond after hours as well. If you need to schedule a meeting, please email us both and we can coordinate a phone call/video conference. You can also call 612-330-1160.
Sarah Griesse: griesse@augsburg.edu
Mike Fetting: fettingm@augsburg.edu
COVID-19  Resources for Students
Please refer to Augsburg University's Student Resource Page for all COVID-19-related communication and resources.
Emergency Funds for Students
If you are having trouble seeing the embedded form below please click the direct link to the form.
Augsburg University Helpline
(612) 474-3100
Monday-Friday 12 pm until 6 pm CST
Residence Life Contact Information
COVID-19 Mental Health Resources for Students
Student Affairs seeks to foster students' personal integrity and community responsibility, self-reliance and interdependence, respect for differences, and critical thinking and leadership skills.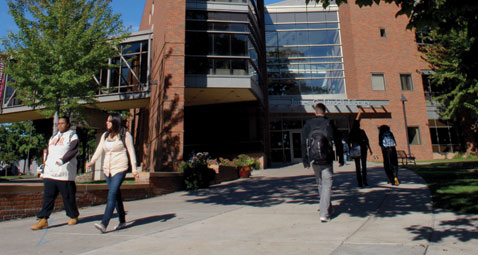 Student Affairs is comprised of the following areas:
 Dean of Students, American Indian Student Services, Campus Life, Center for Wellness & Counseling,  Latinx Student Services, LGBTQIA+ Student Services, Military and Veterans Support, Pan-Afrikan Center, Pan-Asian Student Services, Residence Life, StepUP® Program
What We Do
The Department of Student Affairs coordinates a wide variety of services, programs and activities designed to support the academic success and personal development of Augsburg students. We recognize that the college years are times for tremendous personal growth, value clarification and self-exploration. It is an incredible period in the life of every student.
We are here to provide guidance and assistance to students by helping students to pursue opportunities, access resources, and resolve issues. In times of crisis, we offer support and caring services to students.
Specifically, we…
Serve as a primary link for students to faculty, staff and administrators.
Provide campus and community involvement opportunities.
Promote appreciation of diverse experiences for the campus community.
Coordinate the campus discipline system and enforce the Conduct Code.
Promote a supportive learning environment for students.
Contact appropriate faculty/staff in the event of a student emergency or illness.
Facilitate the process of informing students regarding emergencies or other special circumstances needing their immediate attention.
Drug Free Schools Plan
Augsburg University is committed to the prevention of alcohol abuse and the illegal use of alcohol and other drugs.  The Drug Free Schools and Communities Act of 1989 (Public Law 101-226) requires an institution of higher education (IHE) to adopt and implement a program to prevent the unlawful possession, use, or distribution of illicit drugs and alcohol by students and employees.
If you would like to view the plan it can be accessed here: 2018-2020 Drug Free Schools Plan (Google Doc)
If you would like to view the 2016-2018 report, it can be accessed at the following link: 2016-2018 Drug Free Schools Report (Google Doc)
If you would like to view the 2014-16 report, it can be accessed here: 14-16 Drug Free Schools Report (PDF)