Congratulations to Sheila Fox Wassink, Disability Specialist and Hana Salad, EAST Program Manager for receiving the November Auggie Pride Awards. Their impact on Augsburg's students is unmeasurable as they constant go above and beyond their call of duty. Staff Senate admires their outstanding work and are honored to award them with this month's Auggie Pride Award.
Sheila Fox Wassink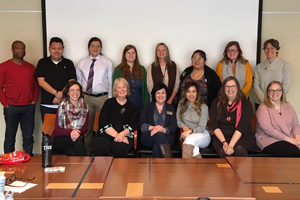 Nomination: Sheila has provided primary leadership for assisting students with physical disabilities since we merged the Access Center with the CLASS Office when Sadie Curtis retired. While Sheila has taken on this leadership task for the last few years, in recent months she brought together several to review challenges in the new Hagfors Center and come up with solutions. As she gets ready to retire at the end of December, Sheila is making sure colleagues and her supervisor in CLASS have the background and knowledge to assist students after she retires. Sheila does all this on top of the specific work she does with students this semester.
Hana Salad
Nomination: Hana is the manager of the East African Student to Teacher (EAST) scholarship program in the Education Department. It is recruitment time for our new cohort of EAST Scholars! Hana has done incredible work with outreach. We have over 70 people who are planning to apply for about 15 spots. Hana has single handedly increased our visibility—making personal and professional connections across the Twin Cities—attending meetings in and across the East African communities to spread the word about our scholarship and Augsburg University. Hana does this work while actively supporting the academic success of our currently enrolled students—who are thriving at Augsburg and as future teachers because of Hana's individual support. She takes calls and texts from students 24/7. Her tireless advocacy of Augsburg is making a difference.
To learn more about the Auggie Pride program and to make a nomination click here to visit our website.