Congratulations to Katie Asfeld, Assistant Director of Admissions and Multicultural Student Services—Ruby Murillo, Jennifer Simon, and Hli Vang for receiving the October Auggie Pride Awards. Their support of Augsburg's students is above and beyond their call of duty and their impact is felt across campus. Staff Senate admires their outstanding work and are honored to award them with this month's Auggie Pride Award.
Katie Asfeld
Nomination: Katie has worked in the undergraduate admissions office for a year now and has done a tremendous amount of work to help bring new and innovative ideas to help with recruiting and enrolling new Auggies. In her short time she has brought a more critical eye to improving campus events, as well as constantly pushing our office to think of how our policies effect underrepresented populations. She was instrumental in the push to move the campus into being a test optional institution, thereby removing a financial barrier for many of our students. Although she has been here for only a short about of time, her kindness and grace has touched every single one of her co-workers and she is absolutely living the missions and vision of Augsburg.
Multicultural Student Services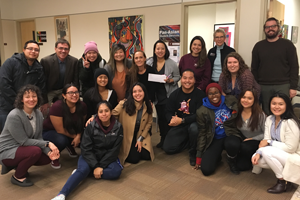 Nomination: Augsburg Multicultural Student Services is 4 departments: Pan-Afrikan Center, American Indian Student Services, Pan-Asian Student Services, and Latinx Student Services. This fall, as Augsburg welcomed new students, with a yet-again larger percent of students from communities of color, we had an open position – the director, Pan-Afrikan Center. The current three directors, Ruby Murillo, Jennifer Simon, and Hli Vang orchestrated arranging the workload so they could be helpful to assist students who had work—and would work with the Pan-Afrikan Director. Besides individual work, it involved programs such as the Fall Leadership retreat (with 150-175 students, a welcome back event, and advising the Pan-Afrikan Student Union.
To learn more about the Auggie Pride program and to make a nomination click here to visit our website.