Congratulations to Jim Trelstad-Porter, Director, International Student & Scholar Services and Mike Matson, Assistant Director of Leadership Gifts for receiving the January Auggie Pride Award. Both consistently go above and beyond their expected duties and their impact is felt by our entire community. Staff Senate admires the work they do everyday and are honored to award him with this month's Auggie Pride Award.
Jim Trelstad-Porter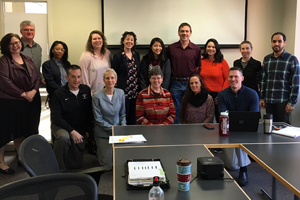 Nomination: Jim has always been caring and attentive to the international students. More than just a faculty member or a director, Jim was the big father that took charge in looking over us for all of our troubles. Jim always goes out of his way to help the students in need and we are grateful to have him. In this past semester as I have had the honor to work with him, I get to know that not only is Jim kind and nice to everyone but he is also a passionate and hard working person. For the international student community of Augsburg to be as big and great as today, a huge contribution is thanks to Jim.
Mike Matson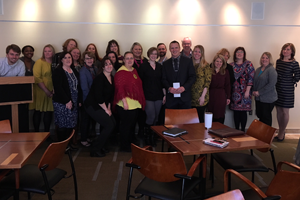 Nomination: Mike Matson '06 has the "Heart and Soul" of an Auggie. New, to the Institutional Advancement department in the past year, Mike serves as a Leadership Gift Officer. As a newcomer to fund development work, Mike takes his passion for Augsburg University, and imparts it to potential donors. Prior to his full-time employment at Augsburg, Mike was Pastor of Bethany Lutheran Church, noted for its community involvement (much like Augsburg). For several years, Mike has served as chaplain to Augsburg University athletic teams and student athletes. He is also a US Navy Reserve Chaplain. Mike recently served as preacher in Chapel. He is married to Helen Matson, and together they have 4 "future Auggies", and one on the way.