Congratulations to Caren Custer, MAE Coordinator and Matt Bakan-Fischer, Senior Admissions Counselor for receiving the September Auggie Pride Award. Their hard work and positive attitudes as they go above and beyond their expected duties are an inspiration to the community. Staff Senate admires the work they do everyday and are honored to award them both with this month's Auggie Pride Award.
Caren Custer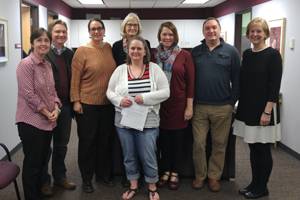 Nomination: Caren Custer is an integral player on the Education Department team. She is always willing to lend a hand, and her extensive expertise, to any project. She is a true professional, who knows her work well. She stepped up to the plate to cover both Minneapolis AND Rochester MAE enrollment this summer, and provided new students with excellent service. Caren is a great mentor and co-worker, and I appreciate all she contributes to the education programs both in Minneapolis and in Rochester.
Matt Bakan-Fischer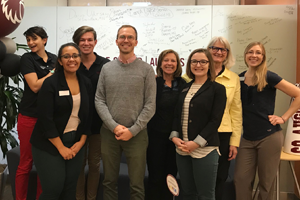 Nomination: Matt has many strengths on display every day. I'm hoping we can recognize him for his ongoing efforts in graduate admissions. Not only does Matt have mastery of the grad programs he represents and their chief competitors, his cultures competency benefits his colleagues and prospective students. We lean on him for advice when working with applicants who originated from outside the U.S. or domestic students who earned degrees or credits outside the U.S.
Matt's pursuing training so that he can provide cultural competency training for others as a credentialed facilitator/trainer. Given the diversity we find at Augsburg, Matt's growing skill set becomes more relevant every term. Hats off to him to pursuing more training not available at Augsburg but that benefits Augsburg.
To nominate an Augsburg staff for this monthly award, email the name of the staff person and reason for your nomination to staffsenate@augsburg.edu.