In partnership with several groups across the university, the Augsburg marketing department is developing a unified set of signage templates and physical distancing markers to provide coronavirus-related health and safety messaging for a variety of Augsburg properties and settings. Signage must be continually updated to comply with current Minnesota Department of Health guidelines.
See the templates below or request custom signage.
Templates
These templates allow you to download signage documents, update the files on your personal computers using word processing software, and print signage using the copy center or an office copier/printer. The marketing department will continue making new templates available as additional needs arise.
Entrance / Exit / Out of Service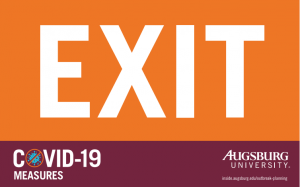 General "COVID-19 Measures" sign template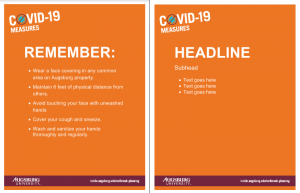 Cleaning sign templates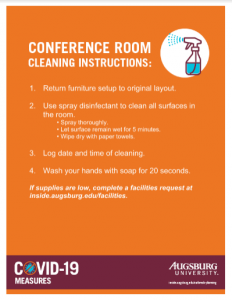 Computer lab templates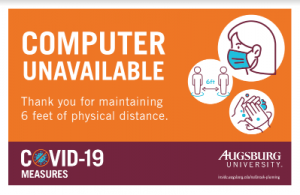 Space capacity templates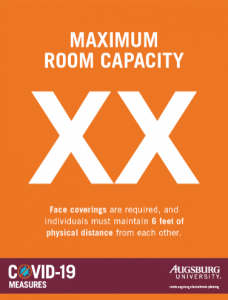 Accessibility requirements
Augsburg University is committed to providing equal access to physical, instructional and technological resources, environments, and programs to all students, staff, faculty, and guests. Equal access is required by law as well as consistent with the university's mission. All members of the Augsburg community share responsibility for creating accessible environments.
Plain text documents for electronic distribution only
The following documents convey signage template information in a manner that can be interpreted by assistive screen reader technology.
Recommendations for using COVID-19 templates:
---
Request a custom design
Fill out the form below to request physical distancing floor dots or floor lines, customized signage and documents, or something else. If the form does not appear below, go to the request form here. You must be logged into your Augsburg Google account to access the form.