Vaccination Record Submissions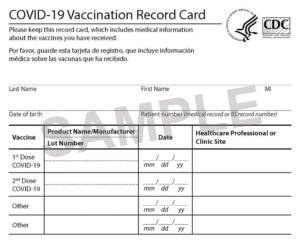 Augsburg Faculty & Staff are asked to submit a scan or picture of the front of their completed COVID-19 Vaccination Record Card. If you received the Pfizer, Moderna or Novavax vaccinations you only need to upload after you've received the second dose. This is a secure process and your information will be encrypted. This information will be kept in a confidential file in the Human Resources office and will be used in accordance with local, state and federal laws that require employers to maintain a safe working environment.
Upload From Computer or Smartphone
Choose Click or drag file to this area to upload

Smartphone users: if prompted to "choose an action" choose Camera. Take a picture of the front of your vaccination record card.
Computer users:

Scan the vaccination card to your computer OR
Use one of the campus copiers to email a copy of your vaccination card to yourself, and then save that attachment to your downloads folder.
Browse for the saved scan of your vaccination record and choose open.

In the Sender field type your Augsburg Email address
Click Encrypt and Send
Allow the file to finish encrypting and uploading
When your screen indicates that 100% Files secured & sent you are finished! You can close out of your browser.
You may receive email notifications from noreply@dropsecure.com when your file has been received and/or opened. If you see a yellow warning on this message you can choose Looks Safe
Unvaccinated Employees
Read the complete Supplemental Policy on COVID-19 Testing and Face Covering Requirements for Unvaccinated Staff and Faculty Employees
Face Coverings
Employees who are not fully vaccinated must wear face coverings over the nose and mouth when indoors in a campus facility and when occupying a vehicle with another person for work purposes.
Regular COVID-19 Testing
Faculty and staff employees who report at least once every 7 days to a workplace where other co-workers, students, or volunteers are present must:
be tested for COVID-19 at least once every seven days, utilizing a PCR or antigen test that is administered by an authorized test provider. The test may not be both self-administered and self-read unless proctored by an authorized telehealth provider. provide documentation of the most recent COVID-19 test result to the Human Resources Department
COVID-19 Test Submission
Employee COVID-19 Vaccine Exemption Forms
If you wish to request an exemption from the COVID-19 Vaccination Policy, please fill out one of the forms below. Please note anyone with an approved exemption will be required to still follow current COVID regulations including masking and social distancing.
Unable to Submit Online
If you are unable to submit your vaccination record over your computer or smartphone please bring it to the Human Resources office in Memorial Hall 19 during regular business hours or mail a photo copy to Augsburg University Human Resources 2211 Riverside Avenue S. CB 79 Minneapolis, MN 55454