Training Information
During the June 9, 2020, town hall for faculty and staff, President Pribbenow announced seven new equity initiatives born out of response to the murder of George Floyd and Augsburg's renewed commitment to accelerate and expand upon our university's efforts to promote equity and inclusion during a national moment of racial and social justice reawakening. One of these initiatives was the requirement of Augsburg faculty and staff to complete an annual anti-racism training. The information provided below is provided to help the university community navigate this training.
---
TRAINERS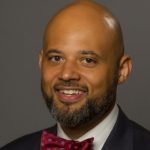 Clyde Wilson Pickett, M.Ed., Ed.D.
Vice Chancellor, Diversity and Inclusion
University of Pittsburgh
Clyde Wilson Pickett (He/Him/His) serves as University of Pittsburgh's vice chancellor for diversity and inclusion providing leadership for university-wide comprehensive diversity, equity, and inclusion strategy. Dr. Pickett joined Pitt following a national search, having previously served as the chief diversity officer for the Minnesota State Colleges and Universities System. Prior to serving Minnesota State, Dr. Pickett held positions at several other colleges and universities, including the Community Colleges of Allegheny County (CCAC) in the role of special assistant to the president for diversity and inclusion, director of multicultural development and director of new student orientation at Ohio Northern University, and roles at Morehead State University and the University of Kentucky. Pickett holds a doctoral degree from the University of Pittsburgh's School of Education and a master's degree from the Morehead State University. He received his undergraduate degree in agricultural economics from the University of Kentucky.
Cornell L. Craig, MBA
Chief Diversity and Inclusion Officer
Hofstra University, New York
Cornell L. Craig (He/Him/His) serves as Hofstra University's chief diversity and inclusion officer where his primary roles include promoting an institutional culture that values and supports diversity and inclusion and guiding overall diversity and inclusion agendas by developing and facilitating strategies and structures that advance diversity and equity within units and across divisions. Craig brings with him more than 15 years of experience in the field of diversity, equity, and inclusion and specializes in training in the areas of implicit bias, microaggressions, social privilege, and cross-cultural communication including intergroup dialogue. His skills in training, policy, strategy, program development, and change management are highly sought after in both the public and private sectors. Craig holds a masters of business administration from Bellarmine University in Louisville, KY and received his undergraduate degree in mass communications from Southern Illinois University-Carbondale.
---
TRAINING DESCRIPTION
Pickett and Craig will build off of last year's anti-racism training. They will do this by expounding on the previously introduced concept of the active process of identifying and eliminating racism through changing systems, organizational structures, policies, practices, and attitudes in order to ensure power is redistributed and shared for equity. This training will support cross participant engagement on the structures that influence racism and on strategies to take action as a learning community. Utilizing a presentation and breakout session format, the training will allow participants space for self-reflection, provide an opportunity to discuss the impacts of race and racism on our work, and foster future opportunities for dialogue and action.
---
TRAINING DATES AND REGISTRATION
FALL SEMESTER TRAINING
Thu, Nov 18, 2021
Hoversten Chapel
3:30-7:00 p.m. (3.5 Hours)

SPRING SEMESTER TRAINING
Thu, Feb 17, 2022
Hoversten Chapel
3:30-7:00 p.m. (3.5 Hours)

MAY MAKE-UP TRAINING 
Thu, May 12, 2022
Via Zoom
2:30-6:00 p.m. (3.5 Hours)
TO REGISTER: CLICK HERE*
*You must attend one of these three trainings in order to complete the employee requirement for the 2021-2022 academic year.
---
TRAINING LOGISTICS
Augsburg faculty and staff participation in this training is required and will be tracked similar to past campus-wide sexual harassment, FERPA, information storage, etc. trainings.

This training will be offered twice during the 2021-2022 academic year, once during the fall semester and once during the spring semester. There will also be a make-up training in May 2022. (Faculty and staff must attend one of these three trainings

.) 

Currently, both the fall semester and spring semester trainings are scheduled to be in-person and the make-up training in May 2022 is scheduled to be provided via Zoom. Training registrants will be notified if Covid-related issues necessitate the fall and spring trainings be moved to the Zoom online platform.
Non-exempt employees and their supervisors should work together to plan in advance how their schedules can accommodate their participation in one of the three trainings without exceeding their normal weekly hours. (Some departments may receive an exception and be allowed to exceed normal weekly hours, e.g. public safety staff, facilities/custodial staff, etc. This, however, must be discussed and approved through division vice presidents.)

Stipends for adjunct faculty will be handled through the

Center for Teaching and Learning

(CTL) following confirmed participation in one of the three trainings. Adjuncts will be asked to submit

this form

in order to receive their stipends.
For more information about this training, please contact the Equity and Inclusion Initiatives Department at inclusion@augsburg.edu or 612-330-1126.